Young voters prefer traditional media
Despite being labelled the 'Internet generation', 18 to 24-year-old voters still prefer mass media such as television, newspapers and radio during election campaigns. According to a researcher behind a new survey from Aarhus University, Business and Social Sciences, political parties ought to choose a different marketing approach.
Politicians are interested in the young electorate for several reasons. Research has shown that first and second-time voters aged between 18 to 24 years develop their fundamental values during this phase of life, and are also more easily influenced by advertisements than older voters. New research from Business and Social Sciences now suggests that the Internet does not have such a huge impact on who young people vote for as many believe.
- Online social media like Facebook and Twitter are necessary elements, but not sufficient. The survey shows that young people still look for information through television, newspapers and, in particular, party leader debates, and these media should thus be top of mind for parties and politicians, says Associate Professor Robert Ormrod from the Department of Economics and Business.
Specialising in political and strategic marketing, the researcher and his colleague Heather Savigny from the University of East Anglia have studied media habits among 200 students from the English university during the UK general election in 2010.
As mentioned before, mass media such as television, radio, newspapers and the popular party leader debates, which were successfully introduced in the UK in 2010, top the list of preferred media among young people when gathering information about election candidates. The Internet's social media come in fourth, while the parties' own websites and broadcasts narrowly beat the classic election posters, which come in last.
New approach to online marketing needed
- The parties must be present online and make information available, but they should not be pushy. You cannot use the online media for traditional marketing, because most young people see Facebook as a social and private place, says Robert P. Ormrod and refers to the Voting Rights Commission's report from December 2011, which points out that Danish voters also see social media as a private place.
The survey conducted by Ormrod and Savigny shows that young people start by getting an overview of the political candidates via the mass media. And only afterwards do they click into the parties' Facebook profiles and websites to learn about their political positions, so that they can make an informed decision on which candidate or party to vote for.
According to Robert P. Ormrod, political marketing professionals should therefore involve young voters on interactive websites to create a trustful relation between politicians and voters instead of opting for more traditional one-way communication.
- It is a question of establishing trust and a relationship which makes the voters feel that there is something in it for them. Marketing professionals need to change their entire mindset. It is not about branding yourself, but about engaging young people during the entire election period, he emphasises.
Similarities between British and Danish Internet habits
Figures from the British Office of National Statistics show that 91% of Britons aged 16 to 24 years were active on social media in 2011. According to Statistics Denmark, the figure is 92% for Danes aged 16 to 25. It would therefore be natural to ask whether the media consumption of young Danes can be compared with the Britons' preferred information sources during election campaigns.
To Robert P. Ormrod, it would be an obvious step to conduct a similar survey in Denmark, and he believes that the survey will show the same trends as those in Britain.
- Statistics show that young Danes are very Internet-oriented compared with many other countries; they are, for example, very frequent Facebook users. Their Internet habits are similar to those of the Britons, and it is therefore likely that the picture of the Danes' habits will resemble that of the Britons.
Further information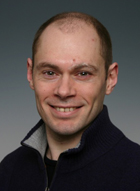 Robert P. Ormrod, Associate Professor
Department of Economics and Business
Aarhus University, Business and Social Sciences
Tel.: +45 87 16 52 78
Email: rormrod@econ.au.dk
Web