Philipp Schröder – Member of the Government's New Disruption Council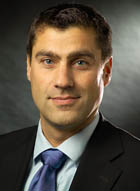 Professor Philipp Schröder has been appointed member of the government's new Disruption Council, which is a partnership between the labour market parties, companies, experts and ministers.
Prime Minister Lars Løkke Rasmussen will act as chairman of the partnership.
The partnership will analyse, discuss and provide suggestions as to how the future Danish labour market can make the most of the technological development and how we can maintain and develop a dynamic labour market without social dumping.