Philipp Schröder appointed member of expert group on research
Professor Philipp Schröder from the Department of Economics and Business Economics at Aarhus BSS has been appointed member of the expert group which is to assist a cross-ministerial committee in assessing the effects of the current research efforts.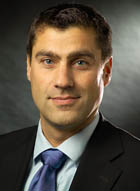 The analytical work carried out by the committee and the expert group aims to assess the effects of the public research efforts in order to contribute to a better prioritisation and organisation of the public research efforts in the future.
Among other things, the expert group will participate in committee meetings, provide constructive feedback and dialogue in connection with analyses and participate in workshops/conferences.
Apart from Professor Philipp Schröder, the expert group consists of Professor H.C. Kongsted, CBS, Professor Ulrich Kaiser, University of Zurich, Professor Anders Sørensen, CBS, and National Statistician Jørgen Elmeskov, Statistics Denmark.
The work of the expert group is expected to be completed at the end of 2018.