People
Economics professor crosses The Gender Gap
When, at the tender age of 18, Nabanita Datta Gupta left her family in India to become an Ivy League student in the United States, she broke with the patriarchal culture of her homeland. Today, she is one of very few female professors of economics in Denmark, and her areas of research at the Department of Economics and Business at Aarhus University include gender differences on the labour market. She celebrates her 50th birthday on 14 January this year.
The 50-year-old "birthday girl" in the office on Fuglesangs Allé is a member of an exclusive club. She does not know the exact number, but it is unlikely that there are more than a dozen female professors of economics in Denmark. It was not exactly written in the stars that Nabanita Datta Gupta was to become one of them. Back in the 1980s, the sole purpose of academic qualifications for women in India was to boost their marriage value. But Nabanita Datta Gupta wanted more from life. Today, she is researching the issue of why, even in the western world, there is such a great divide between the positions of men and women on the labour market.
From India to the Ivy League
"Education was very important to my family. In the 1970s, my father refused to buy a television because he wanted us children to concentrate on our homework instead. School was very competitive, and we had to fight tooth and nail with millions of other students to capture one of the few places available at the best universities in the country. Even though the pressure was just as hard on us girls, we were still not expected to use our education for anything other than landing a good husband," relates the professor. At the age of 18, with her high school years only recently behind her, Nabanita flew to the United States with a scholarship to the prestigious Smith College in her pocket.
"Smith is one of the most highly regarded women's colleges in the United States, and the student environment was fantastic. I made contact with numerous strong role models among my teachers and fellow students, and the motto was 'you can if you want to'," recalls Nabanita Datta Gupta, whose former study partners include an American senator, a Pulitzer Prize winner and the first woman to row across the Atlantic Ocean.
The contrast between the patriarchal society in India and the emancipated environment at Smith College led Nabanita to turn her attention to women's conditions, and in 1992 she wrote her PhD thesis on gender difference on the labour market at Cornell University.
The Gender Gap
Professor Datta Gupta has researched all aspects of labour market economics, but she continues to return to the issue of why women in a western, non-patriarchal society such as Denmark still fail to even out the considerable difference that exists between the genders on the labour market – commonly known as "the gender gap".
"It is clear that there is a gap that shows no sign of disappearing. No progress has been made at all in this area for many years, even though women have largely caught up with men in the field of education."
Nabanita Datta Gupta is currently working with her professorial colleagues in the department and with Nina Smith – her co-author of many years – on a controversial explanation which lays some of the blame at the feet of the family-friendly policy of the welfare state:
"It could be that this family-friendly work policy is contributing to locking women into specific sectors and positions. In Denmark, there is no 'personal punishment' for anyone who chooses to take repeated and lengthy periods of maternity leave, so there is less incentive for women to return quickly to the labour market. This becomes a societal problem if the 'punishment' is instead expanded to include all women, when employers more-or-less consciously make reservations about taking on young women," explains Nabanita Datta Gupta. Professor Datta Gupta goes on to emphasise that she is in no way opposed to the good child-minding programmes in Denmark:
"Conditions in Denmark are very favourable for families with children; in fact, they are one of the reasons why my Danish husband and I moved to Denmark from the United States 18 years ago to start a family. And I have been able to enjoy an academic career precisely because I have made full use of the good child-minding opportunities."
Over and above the issue of gender differences on the labour market, Professor Datta Gupta also conducts research into areas such as health economics, retirement from the labour market and discrimination in other areas. For example, she has recently started work on a project on caste discrimination in India. In all, she has written more than 60 articles and other scientific works, and has advised ten PhD students.
Refreshingly informal in Aarhus
Immediately after moving to Denmark, Nabanita Datta Gupta was offered the post of associate professor at Aarhus School of Business, as it was called back then. She was positively surprised by the relaxed, informal tone she encountered there.
"My Danish colleagues were remarkably open and were more than willing to state their opinions and get into arguments at the faculty meetings. In the United States, all relations at the university are governed by a strict hierarchy; the system is much more democratic in Denmark. It makes a refreshing change for me to have my students address me by my first name rather than calling me 'Professor Datta Gupta' all the time," she says, before giving a much-needed pat on the back to the students, who have otherwise been given a rough ride by the media in recent times:
"In my opinion, Danish students are much more mature and independent than those I have encountered abroad. It is a good thing that here in Denmark we're not so interested in regular tests as they are in the United States, for example. The Danish approach gives students the chance to think for themselves and take responsibility for their education rather than simply learning everything I say off by heart."
About being a role model
In parallel with her numerous research projects, Nabanita Datta Gupta has been a member of the Danish Social Sciences Research Council (FSE) for five years; the FSE distributes research funds from the Danish state on the basis of applications from researchers all over Denmark. At the Department of Economics and Business, Professor Datta Gupta teaches an introduction to micro and macro-economics, what she terms "a huge privilege", particularly when the discussions in the auditorium add new perspectives to her research.
"I think I have a kind of responsibility to set a good example for my students. Enthusiasm about the subject is infectious, after all. I'm very aware that I am a woman in a male-dominated sector; it's good for the female students to see that you can make it if you try."
Inspired by her father, who worked as a volunteer on the polio vaccination programme in India for many years, Nabanita has long been providing homework assistance in the Gellerup area of Aarhus as a part of the Tusindfryd (Daisy) initiative for immigrants.
"These children do not get the same support for their schooling from their families that I was lucky enough to have. I hope that I can open their eyes to the opportunities that an education can give them – particularly the girls, who may be short of role models in this area. And it is just as much fun, just as challenging and just as informative to teach primary and lower secondary school children as it is to teach university students."
Nabanita Datta Gupta has three children (aged 10, 15 and 18) with her Danish husband, who is also an economist – and who works in the same department as her following the mergers. Having pulled up her roots and moved to a different country several times in her life, she thinks that her family will probably stay in Denmark.
"Of course, you should never say never ..." concludes the now 50-year-old economics professor.
Contact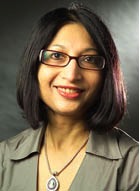 Nabanita Datta Gupta
Professor, Department of Economics and Business,
School of Business and Social Sciences, Aarhus University
T: +45 8716 5207
M: ndg@asb.dk
Web