New research: Finding the recipe for international trade success
Researchers from Aarhus University's School of Business and Social Sciences have received a grant of 15 million Danish kroner from the Tuborg Foundation. As the first in the world, the researchers will study how export businesses can become better at establishing international partnerships. Their findings will strengthen Danish trade and industry and international research in this field.
A small group of Danish export businesses are generating billions of kroner of revenue from products and services which very often never touch Danish ground. Danish exporters cooperate in long global value chains with a number of foreign businesses on the design of products which are usually sold to end-users by large international companies.

Sharing their expertise with other businesses would be valuable for Denmark, but there is a real lack of exact knowledge on how the businesses specifically establish themselves in the international partnerships on which the global value chains are based.
A new grant of 15 million kroner from the Tuborg Foundation for a group of export researchers from School of Business and Social Sciences will change this. The research group, the Tuborg Center for Research on Globalisation and Firms, which is headed by Professor Philipp Schröder, will spend the next five years shedding light on the success rates of Danish export businesses and their roles in the global value chains.
The grant is conditional upon all findings being communicated widely to Danish trade and industry and to political decision-makers.
- It is a fundamental requirement that research supported by the Tuborg Foundation provides Danish businesses with new and essential knowledge. The global value chains are constantly developing, which is why we stress the importance of disseminating results fast and as they emerge. Having provided funding for this group before, we know that we can expect both research and dissemination of knowledge to trade and industry of a high international standard, says Peter Moe Rasmussen, Deputy Director and head of the Tuborg Foundation.
Solid profits
- The large international companies control the end-products in the export markets, but solid profits can still be made by Danish businesses who tap into the value chains. It is therefore important to explain how the value chains work and vary according to sector, product or global region, says Philipp Schröder.
Danish businesses play widely differing roles in the value chains. For example, a Danish business concept such as BoConcept has franchisees all over the world. A manufacturing company such as Svendborg Brakes outsources parts of production to China and Germany and acts as a subsupplier to large wind turbine manufacturers. A clothes manufacturer from central Jutland has outsourced all clothes production to Indonesia and sells its products in China via Japanese chain stores.
- We will dissect a broad selection of the value chains in which Danish export businesses have been most successful. We expect to identify common features within a number of specific areas, including for example the international experience of managers, says Philipp Schröder.
Building on success
The researchers have caused quite a stir within trade and industry and the research community with their current project, Made in Denmark, which has also been funded by the Tuborg Foundation. With Made in Denmark, the researchers have been the first in the world to identify what characterises the strongest export businesses in a large number of areas to do with, for example, cost control in the export market, businesses' individual managerial competencies and networks with other exporters.
The new project builds on these results based on the research group's database which, quite uniquely, contains a complete and detailed data overview of all businesses in a whole country, Denmark. Thanks to the large volumes of qualitative and quantitative data, the research findings are likely to be regarded as being very valid.
Answers for WTO
The researchers also expect to be able to offer an answer to a central question for the World Trade Organisation: How can the world's national accounts most accurately measure what different countries earn from international trade in the complex global value chains?
Today, the businesses' resource contributions to the global value chains cross a large number of national borders, while the national authorities are unable to retain an overview of these flows. This is a problem when it comes to legislation in this area, which should rest on a well-documented basis.
- If we identify the factors which generate value for the businesses involved in the value chains, and can then show the most important items of revenue generated by Danish businesses, then it will provide the WTO with an indication of how to design their accounts, says Philipp Schröder.
Facts:
The grant from the Tuborg Foundation totals DKK 15 million and comes as a DKK 3 million per year grant for a five-year period.
The Tuborg Foundation grant has been given in continuation of the foundation's current DKK 6 million grant to the group of export researchers. This grant expires in 2013.
Aarhus University is providing match finance of DKK 15 million, resulting in a total centre budget of DKK 30 million.
The research group will be based at the Tuborg Center for Research on Globalisation and Firms at School of Business and Social Sciences, Aarhus University.
Contact: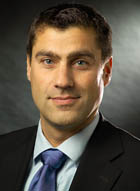 Professor Philipp Schröder, Director of the Tuborg Center for Research on Globalisation and Firms
Aarhus University,
School of Business and Social Sciences,
Department of Economics and Business
Tuborg Center for Research on Globalisation and Firms
T: +45 8716 4971
M: +45 3022 9123
E: psc@asb.dk
W: http://pure.au.dk/portal/da/persons/id(7c6e1153-64e9-41b2-9f9d-c58b083db620).html
Peter Moe Rasmussen
Deputy Director and head of the Tuborg Foundation
M: +45 40 90 33 51
E: Peter.Rasmussen@carlsberg.dk
W: www.turborgfondet.dk