National support schemes affect the decision of investors to invest
National legislation is vital for new renewable energy plants to make economic sense, shows new research from Aarhus University, Business and Social Sciences, which has resulted in an international award for Industrial PhD student.
New research shows that a high level of national support for renewable energy is a sign of poor market conditions. Many people mistakenly believe that the more support renewable energy receives, the more money the producers earn, but that it is not the case at all. Support is provided to those who are already financially strapped!
- In other words, a high level of financial support for renewable energy is a sign that the market conditions for that type of renewable energy are good (or that people simply do not care about renewable energy in that particular country), says award recipient, PhD student Tanja Groth from Aarhus University, Business and Social Sciences.
International award for her research
This is the conclusion of the research for which PhD student Tanja Groth has recently received an international PhD award at the European Biomass Conference in Milan on 22 June 2012 for her research into bioenergy.
In her study, Tanja Groth compares Denmark, the UK and Germany and examines the impact of investment decisions in these three countries:
Bioenergy relatively well off in Denmark
The producers of renewable energy from biomass in Denmark struggle the least out of the three countries, and therefore, the producers also receive the lowest level of financial support compared to the other two countries.
One of the reasons that producers choose renewable energy in Denmark could be that taxes are so high in all other areas, and by choosing renewable energy they avoid paying too much. Own production from renewable energy plants is therefore an alternative to heavily taxed fossil fuels.
Germany and the UK
In Germany and the UK, producers receive far more financial support than in Denmark. In Germany, the market conditions for bioenergy are very similar to the Danish, but the tax burden on fossil fuels is less, making it a more competitive alternative than renewable energy. Nevertheless, Germany has the absolute lowest returns, which may reflect the high degree of public acceptance and awareness of renewable energy technologies and thus acceptance of lower revenues.
In the UK, the market for renewable energy is completely new. High goals have been set for renewable energy politically, and these are to be achieved by the year 2020. However, there is not a lot of understanding or support for renewable energy, which is why it is difficult for producers to penetrate the market. These are so-called market barriers, such as a lack of support and understanding among the population, lack of skills in the workforce, etc.
The UK provides the highest overall level of financial support, but it is spread over several different mechanisms, which increases the administrative costs for the applicant. This probably means that only those investors who have the greatest need will apply for all types of financial support.
The next step for Tanja Groth is to identify best practice in the three countries and the extent to which it is possible to transfer experience across differences in countries. Focus will mainly be on studying how investors regard nationally determined levels of financial support – there are methodological differences between the two parties, which means that nationally determined financial support schemes are completely different at investor level.
Contact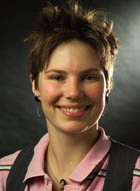 Tanja Groth, Industrial PhD student
Aarhus University, Business and Social Sciences
E-mail: tanjag@asb.dk
Mobile: (+45) 61 46 48 23
Web