Committed PhD with international ambitions wins prize
Anders Bredahl Kock from the Department of Economics and Business, Aarhus University, has won an Aarhus University Research Foundation PhD prize, which will be awarded on 25 May 2012.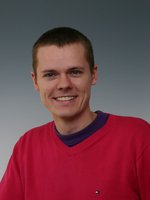 Anders Bredahl Kock started his PhD studies at the Department of Economics and Business in September 2007. Throughout his PhD, he has been attached to the Centre for Research in Econometric Analysis of Time Series, CREATES.
Anders Bredahl Kock is one of the best PhD candidates from the Department of Economics and Business for many years and has a promising international career ahead of him. As a student, he has constantly shown an outstanding sense of commitment, among other things by attending many specialist courses, far more than what is normally expected of a PhD student. In so doing, he has amassed very strong interdisciplinary knowledge in the interface between mathematics, statistics and econometry.
All the chapters in his PhD thesis are either published or have been accepted by or submitted to leading econometry periodicals. Moreover, two of the chapters, one published and the other accepted for publication, have both been authored by Anders Bredahl Kock on his own. In addition, he also has three publications on their way to leading international periodicals; here, he was the sole author of one of them.
Anders Bredahl Kock's ambitions for the future include entering the international job market, and a post at a leading American university is not unlikely.
However, the USA will have to wait a few years for this Danish talent who has recently been awarded a post-doc fellowship by the Danish Council for Independent Research (DFF) and one of the Research Council's prestigious Sapere Aude grants (Young Elite Researcher Prize). Based in Aarhus, Anders Bredahl Kock will use the post-doc period and the grant to visit leading research environments in the USA and Canada which are relevant for his work; these will include the University of North Carolina, Northwestern University and McMaster University.
Aarhus University Research Foundation PhD prizes – in brief
Every year, the Aarhus University Research Foundation awards PhD prizes to promising young researchers who concluded their PhD at Aarhus University the previous year. At the University's 75th anniversary in 2003, five recently qualified PhDs received prizes for the first time in recognition of their research work, and since then the prize-giving has been an annual event. The prize comes with a sum of DKK 50,000.
The Aarhus University Research Foundation's PhD prizes will be presented on Friday 25 May 2012, and the ceremony will take place at 11 - 13.30 in the Main Hall at Aarhus University (entry from Nordre Ringgade, building 1410).