Awards
Business Administration Student of the Year 2016
Tor Toftgaard Madsen has received the title as Business Administration Student of the Year 2016.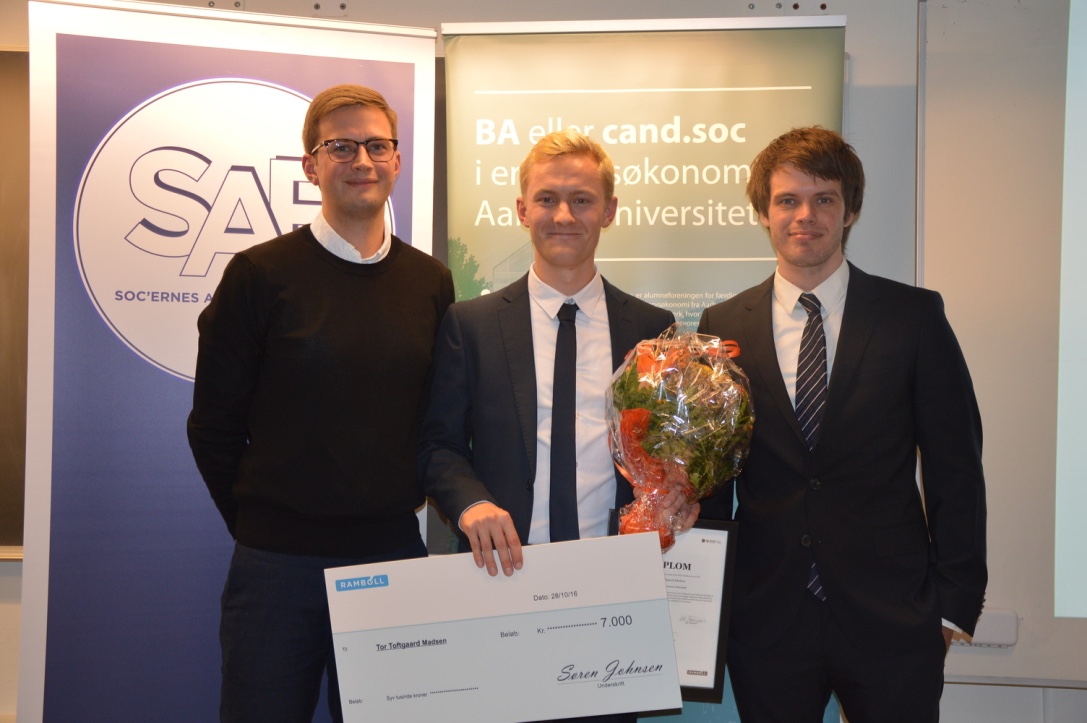 As one of the founding members of the student association SAF, Tor receives the award for his outstanding work towards creating a living and productive study environment for the students enrolled in the Business Administration programme. Along with the award follows a check of DKK 7,000 sponsored by Rambøll.
Tor Toftgaard Madsen was nominated for the award by students, staff members and student associations at the Department of Economics and Business Economics. Through his work in Oeconrådet and the Board of Studies, Tor has worked hard to secure optimal social and academic conditions for business administration students. Especially his work as one of the key drivers behind establishing and running SAF (soc'ernes aktivitetsforening) has benefited the students extraordinarily.
Besides being an ambitious and hard-working student, Tor is very popular among his fellow students, who describe him as loyal, trustworthy and highly appreciated. Tor is commended for being an inspiring person and without a doubt a very good representative of the competencies of students in the business administration programme.
Tor received the award at the celebration of the 15th anniversary of the cand.soc. programme that took place on 28 October.
Facts about the award
The EØ-Award is awarded annually to a student in the Business Administration programme (cand./BA.soc.). The award is given to a student who has played a central role in the creation of a living and productive study environment whilst demonstrating a high professional level in his/her studies. This year the award is sponsored by Rambøll.