People
2 x Frederik win award for best Barchelor's project in economics
Frederik Bjørn Christensen and Frederik Læssøe Nielsen have won the award for best Bachelor's project in economics presented by the Danish central bank, Danmarks Nationalbank. They receive the DKK 10,000 award for the project "The role of the public sector in intergenerational welfare contracts".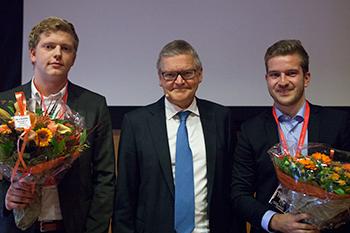 "The project is of a very high academic level, and it succeeds very well in taking into consideration the challenges of carrying out politics in practice. Frederik and Frederik delivered a really good short presentation of their project at the Nationalbank's careers evening," states the bank's Head of Monetary Policy and International Relations, Steen Ejerskov.
The Bachelor's project contributes to a better understanding of the role which the public sector and the pension systems play in the Danish economy. This is important when evaluating the resilience of Danish economy compared to other countries.
The two economics students from Aarhus BSS competed against eight other students from the universities in Copenhagen, Aarhus, Odense and Aalborg.
"The projects were all very good, and it was difficult to pick a winner. Several of the projects delivered a great deal more that what you usually expect from a Bachelor's project," says Steen Ejerskov.